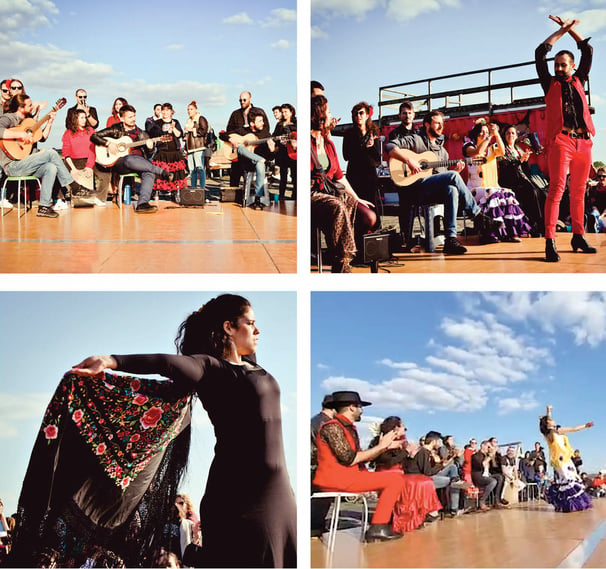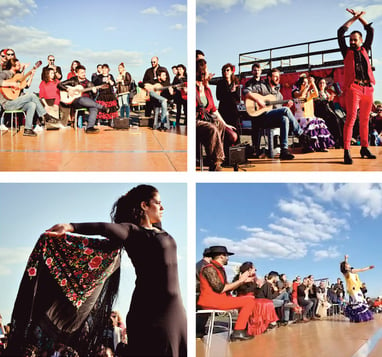 Booking
Are looking for an original experience for your next corporate event, private celebration, or cultural event?
Look no further: offer flamenco!
The flamenco group of Tempelhofer Feld is composed of a network of professional and semi-professional flamenco artists based in Berlin. The disciplines of guitar, singing, percussion, and dance are widely represented.
Depending on the availability of the artists and the needs of each event, individual repertoires converge into a unique program tailored to each occasion. Below, we illustrate two of the most classic formats:
FLAMENCO CONCERT
This is a reduced-format flamenco performance. It has a variable duration of 20 to 60 minutes and features a cast of three to six artists: a singer, a guitarist, and one or more dancers. The repertoire is highly versatile and easily adaptable to the needs of each event, alternating three elements: solo guitar pieces, classic flamenco singing numbers, and flamenco dance numbers.
FLAMENCO NIGHT
This is a larger-scale format with a large ensemble consisting of multiple guitars, percussion, several voices, and dancers. It is a vibrant and colorful show centered around the most festive styles of flamenco: bulerías, alegrías, tangos, rumbas, and sevillanas.
This format conveys flamenco as a means of expression and a way of life for flamenco families in a more authentic manner. Multi-voice singing, handclapping, and enthusiastic expressions make the staged nature of the performance fade away and immerse the audience in an authentic flamenco fiesta.
Contact us at: tanzbodenthf@gmail.com
or using this form: